Phil Shoenfelt & Southern Cross
27. 08. 2021, 20:30
Phil Shoenfelt je veteránem londýnské, manchesterské a newyorské punkové a post-punkové scény.V létě 1994 Phil podnikl turné v České republice, doprovázen hudebníky z Tiché dohody. O rok později se do Prahy přestěhoval nastálo. Tam založil svoji současnou kapelu PHIL SHOENFELT & SOUTHERN CROSS.
Živé CD Phil Shoenfelt & Southern Cross The Bell Ringer – Live At The Shot-Out Eye, které bylo nahrané v létě 2014 u příležitosti 20. výročí kapely, vyšlo v červnu 2015.
10. ledna 2020 vyšlo na německém labelu Sireena Philovo poslední sólo album Cassandra Lied. Hostují na něm hudebníci Chris Hughes a Baron Anastis z Dim Locator, Kristof Hahn ze Swans, David Babka ze Southern Cross, Eva Turnová (ex PPU) a Marcia Schofield (ex Khmer Rouge a The Fall).
Pořadatel:
Kultura do města, z. s.
Kontaktní osoba: Pavel Apolen
Tel.: +420 604 436 780
E-mail: pavelapolen@seznam.cz   
FB: www.facebook.com/kulturadomesta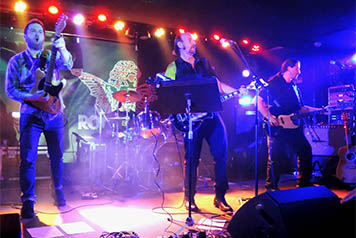 Typ: Concerts
Organizátor: Kultura do města, z. s.
Place: Restaurace Dačický, Rakova 8, 284 01 Kutná Hora
Site with more information: http://FB / kulturadomesta